Founding chairs Smith and Girod depart, celebrate progress and early impact of KC Rising efforts.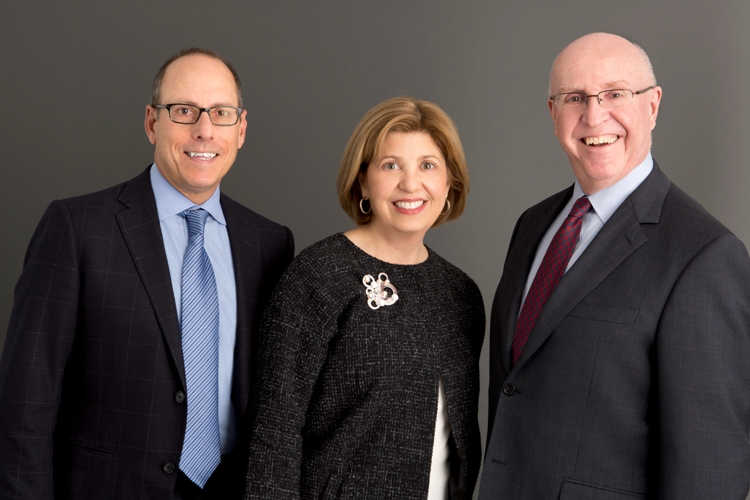 The KC Rising Steering Committee announced today that John Murphy, Sandy Price and William Gautreaux will jointly chair the KC Rising Steering Committee beginning March 1, 2017. After more than two years of leadership, Scott Smith and Doug Girod will step down from their posts as co-chairs of the regional business-led initiative.
"I am so proud of the work that has emanated from the KC Rising effort," said Smith, former president and CEO at HNTB Infrastructure. "With hundreds of volunteers engaged from the regional business and civic community, impactful initiatives already underway and new partnerships formed with regional leaders, we have built trust and committed leadership – we can't ask for more than that."
Under Smith and Girod's leadership, KC Rising launched its initial promise to the greater KC region, developed a distributed implementation model to facilitate the process of identifying the region's best opportunities for growth, and is making progress on specific initiatives related to Globally Competitive Sectors, Innovation & Entrepreneurship and Human Capital.
"I don't know of another time in our region's history that the business and civic communities have come together in such strong alignment on ways to move our community forward, accelerate job growth and improve employment opportunities for all of our residents," said Girod, executive vice chancellor at the University of Kansas Medical Center. "KC Rising is already making an impact on these goals and has a lot of exciting opportunities ahead."
Gautreaux, CMO and President of Crestwood MSL, has served on the KC Rising Steering Committee since 2014 helping to guide the recommendations and activities of the Work Groups.
"The foundation of the distributed implementation model has been laid under Scott and Doug's leadership. With their continued participation I look forward to advancing innovation and entrepreneurship through the work of the KCRise Fund, KC InvestED and building centers of innovation across the region," said Gautreaux.
Price, board member with Great Plains Energy and senior human resources executive (Sprint, retired), previously served as the co-chair of the Human Capital Work Group which has launched new initiatives including the Talent-to-Industry Exchange, KC Degrees, GatewaysKC, GradeForceKC and support for the Kauffman Foundation's KC Scholars program.
"KC Rising has proven it can make an impact on our region by bringing together the business, civic and education communities under a shared goal," said Price. "I've been honored to work alongside a very dedicated group of leaders with a strong commitment to the people in our communities."
Murphy, partner and immediate past chair of Shook, Hardy & Bacon LLP, has served on the KC Rising Steering Committee since 2014 and as Advisory Board Chair for the KC InvestED initiative, now housed within KC SourceLink.
"It has been a privilege to serve on the KC Rising Steering Committee since day one and I'm eager to step into a greater leadership role as chair," said Murphy. "Our work to advance a number of initiatives through partnerships across the largest civic organizations in our region is unprecedented. I look forward to leveraging our collaboration even further."
Smith and Girod will continue to serve on the KC Rising Steering Committee with Smith also serving on the Globally Competitive Sectors Work Group and Girod moving on to provide guidance and leadership to the Life Sciences Nexus effort. More information on KC Rising and its various initiatives can be found on its website at www.kcrising.com.
KC Rising will host its second annual report to the community in its Year Two Update on Tuesday, Feb. 28 from 4 – 6 p.m. at the 1900 Building located at 1900 Shawnee Mission Parkway and State Line Road in Mission Woods, Kansas. Registration is required and space is limited. The event will also be live streamed at http://www.ustream.tv/channel/g9tMsYGUwcz.
About KC Rising
KC Rising is a regional, collaborative, business community-led effort to develop a path for the KC region to reach its full economic potential. KC Rising develops and executes strategies for accelerating the region's economic growth and ensure its continued competitiveness in the global economy. KC Rising is supported by the leadership and staff of the Civic Council of Greater Kansas City, Mid-America Regional Council, the Kansas City Area Development Council, the KC Chamber and regional chambers of commerce. www.kcrising.com.
Save
Save
Save