There's something majestic about outdoor art. Against landscapes or cityscapes, sculpture can take on an entirely new life. It is used to commemorate, celebrate, remember, unite, engage, and define the outdoor space it occupies. Al fresco, art is at its most accessible.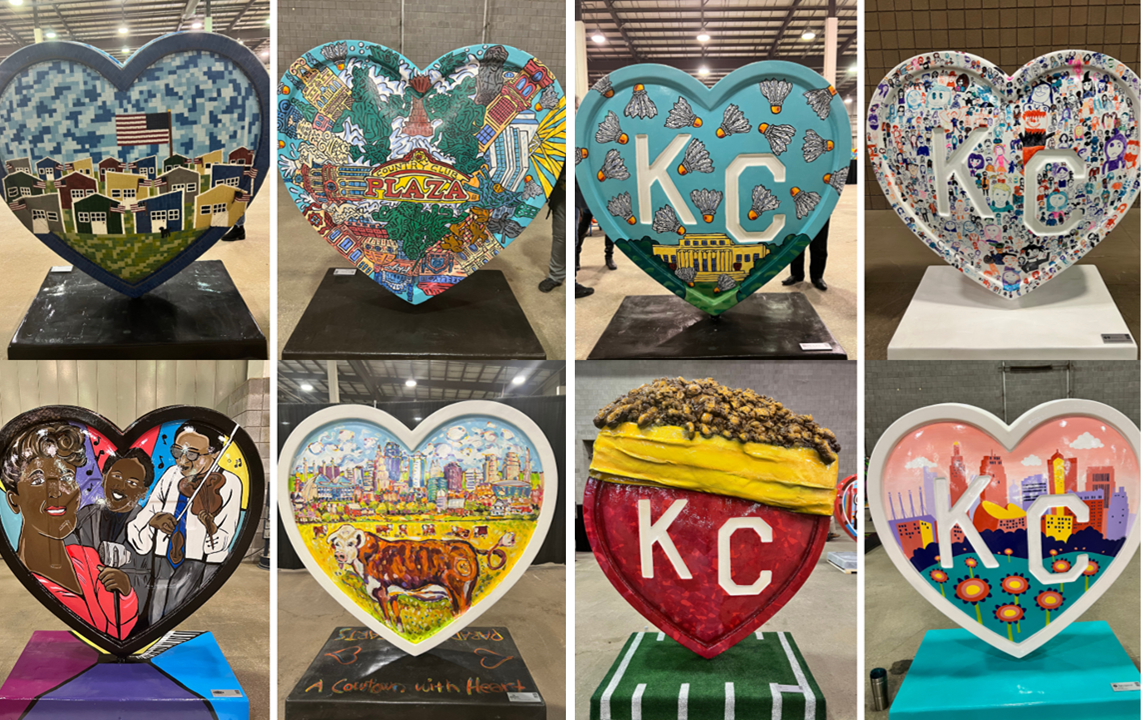 Marking one of Kansas City's most ambitious public art projects to date, the Parade of Hearts is an inclusive, free, outdoor art experience of 154 beautifully created five-foot sculptures, using the iconic KC Heart. One of the goals of the Parade of Hearts board was to set an example, not for just those in the heartland, but for the rest of the world, with a common purpose of making our communities stronger and more unified, despite the difficulties and challenges of the last few years.
For more than 100 years, Kansas City has laid claim to America's Heartland. The Heart of America has been displayed in the form of railroad pins, at civic events, on t-shirts, on the uniforms of the legendary Monarchs Negro League Baseball Team and currently as our region's icon. For this celebration of hearts, over 700 designs were submitted from both amateur artists and professional artists. The Juror Panel was tasked with selecting 154 designs and together they selected 123 artists who represented a diverse group – geographically, culturally, ethnically, age, and gender. Their stories and inspiration can be found on the Parade of Hearts website.
Today, communities from across the Kansas City region are showing the world why we are known as America's Heartland and why we have the biggest hearts. The Parade of Hearts will raise funds to educate young children (MARC), boost the local and regional Artist community, help small minority-owned and women-owned businesses (AltCap), fund equipment, health, and wellness (University of Kansas Health System), and drive tourism and hospitality (Visit KC Foundation).
The Parade of Hearts kicked-off in early March and will be available for all to experience through the end of May. On June 17, 2022, an auction will take place where many of the hearts will be auctioned off to businesses and/or individuals for them to keep and enjoy.
The Parade of Hearts has changed lives. A young, visually impaired girl experienced the hearts by feeling them and listening to the artist's stories, with a big grin on her face. An artist with a brain injury created a beautiful heart and took it on tour to promote the Parade. And another artist commented; "This experience has opened doors for me that would have never been possible."
These one-of-a-kind creations can be found throughout the Kansas City region, in thirty cities and two states. Each heart is unique, with the artist's inspiration and story behind it. Some are whimsical, some historical, others reflective, and some are thought-provoking…but all depict our love for the Heartland. Download the Parade of Hearts App and plan your very own heartland tour!