KC Rising exists to achieve a shared vision of regional prosperity for all by aligning and accelerating community effort for greatest impact. At Horizon 2021, we announced KC Rising's Pillars of Prosperity. The Shared Vision: Pillars of Prosperity were created with input from thousands of community members and its outcomes are community-led. The Shared Vision guides the work of KC Rising, but has also become an alignment strategy to connect others working to similar ends.
Already, the four civic support organizations that founded KC Rising – KCADC, MARC, Civic Council and KC Chamber – have endorsed the shared vision and are incorporating it into their strategic plans.
Six additional organizations have also adopted the shared vision and are incorporating it into their strategic plans:
Kansas City Area Transportation Authority (KCATA)
Downtown Council Board
Overland Park Chamber
Independence Chamber of Commerce
KC Global Design Leadership Group
KC Regional Transit Alliance
You are invited to join the movement! You can download a Pillar badge (or multiple pillar badges) and add it to your organization's materials or website. This guide will walk you through how to use the downloadable badges as well as an aligned KC Rising logo.
Examples of the badges can be found on the website footers (bottom of the page) on KC Global Design and Yoodle.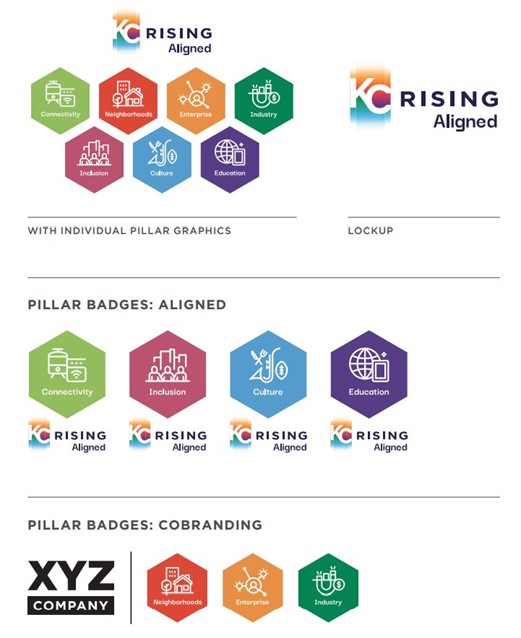 EXPERT TIP: Direct this process to someone in your company who is best suited to do this work. Enlist the help of your IT Department, a Web Developer or someone who has experience logging into the backend of your website to embed the code.