By the 3rd quarter of 2013, half of all United States metro areas had recovered all the jobs lost during the Great Recession (Prosperity at a Crossroads.) When compared to cities of similar size, KC was one of only four metro areas in its peer group still in the red in terms of post-recession employment. The region lost almost 60,000 jobs and had only recovered about 30,000 of them. Only Milwaukee and St. Louis metro areas experienced weaker recoveries.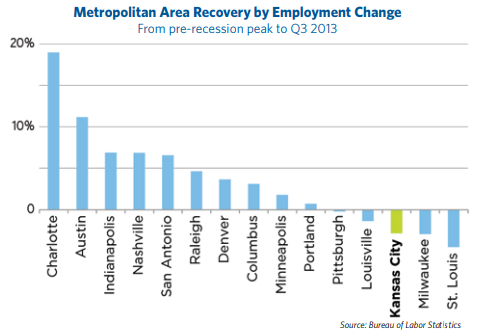 This is the origin story of KC Rising. These facts moved regional employers and civic leaders to come together and dream of a more prosperous future.
The COVID-19 recession caused an even greater downturn in jobs at an unprecedented pace – in Q2 the KC region lost nearly 175,000 jobs! (Impact of COVID-19 on the Kansas City Metropolitan Economy) But, there is some good news: According to a recent report released by CoStar News, KC is in the top three of job growth relative to pre-pandemic peak. Salt Lake City and Austin round out the top three.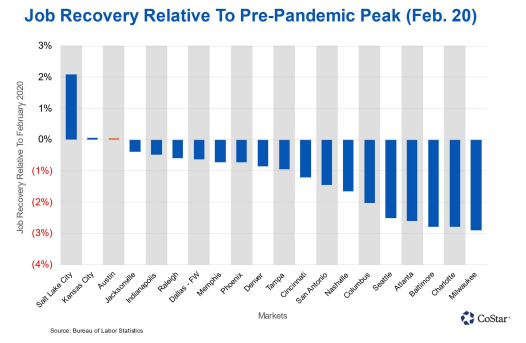 KC is on the rise. As our community moves forward, we need to continue to work toward not just growth, but growth with equity built in, so that all parts of our town see the benefit of economic gains.